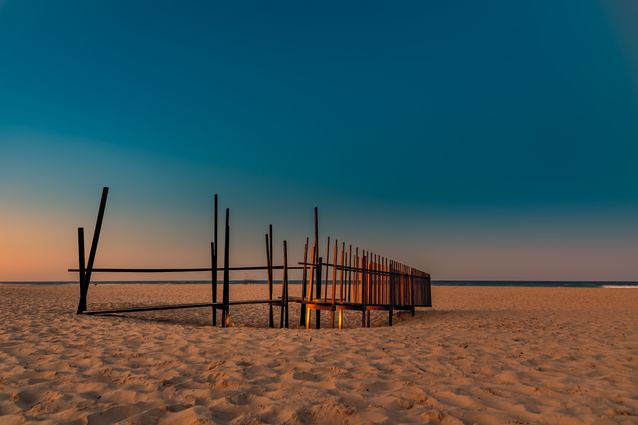 Architect creates sculpture for Gold Coast festival
[ad_1]
Artists and architects putting the finishing touches on their creations for the 19th annual Swell Sculpture Festival, the annual exhibition that sees dozens of full-scale sculptures erected along Currumbin Beach on the Gold Coast.
For the third year in a row, architect Hooman Jaffar and architecture graduate Taylah Jardine from Real Space Creative present a sculpture at the festival, where most of the works are produced by local and international artists.
Their sculpture this year, titled #Lifetime and produced with carpenter Owen Thompson, is an exploration of time featuring a series of wooden beams buried in the sand and rising in a circular formation.
"You're going to feel like you're in a forest," Hooman said. "The greatest joy is seeing the children interact with the rooms – whether they walk through them or use them as a playground."
Their sculpture will be one of some 70 Australian and international sculptural works created by more than 145 artists during this year's festival, which runs from September 10-19.
The main exhibit along Currumbin Beach will be accompanied by Swell Kids Elements, an interactive sculpture park for families, where there will be performances, an outdoor cinema, sculpture workshops and masterclasses, a library for children in the open air, guided walks of sculpture and lectures by artists and panels.
Swell Sculpture Festival co-founder and artistic director Natasha Edwards said the festival was a unique opportunity to showcase temporary works of art. "Although her presence is short-lived, she leaves a lasting impression through the reverberations of the artist's voices and the echoes of memories and shared conversations," she said.
"Each sculpture tells its story, and collectively these stories emanate from the essence of Swell."
[ad_2]