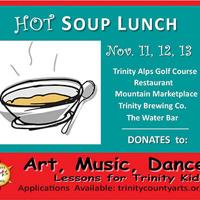 Local restaurants mobilize to support the Festival of Lights annual fundraiser | Entertainment
Several restaurants in Weaverville are mobilizing to help the Festival of Lights scholarship fund by serving their place of business their choice of a "Festival of Lights soup". A percentage of the breakfast soup will be donated to the scholarship fund for 2022. Participating restaurants are the Trinity Alps Golf Course Restaurant, The Water Bar, Trinity County Brewing Co. and Mountain Marketplace.
The Festival of Light, Arts & Crafts Event is Trinity County Arts Council's annual fundraising event that provides arts, music and dance lessons to children in Trinity County. The Festival of Light runs from November 11 to 13. This year it will again be held virtually and in person on a smaller scale at the EarthDance Studio and Gallery, 140 S. Miner St., Weaverville. Open three days from 11 a.m. to 5 p.m.
You will find on EarthDance and online the usual duration of 20 tickets to buy and deposit to win a wide variety of gifts at the Dutch auction. Ten arts and crafts vendors from Shingletown, Cloverdale, Shasta County and Trinity will participate, selling their products and donating 20% ​​of the sales to the exchange. Video recitals by music, art and dance students will play continuously during the days of the festival. Obtain a request for your child to receive art, music or dance lessons from local instructors.
Prior to COVID-19, the Festival of Light was held as a one-day Christmas arts and crafts fair at the Veterans Memorial Hall in Weaverville. The organizers hope to return to it in the future, but for now it is an alternative to provide financial means for a cultural experience for children in our community. You can support fundraising by having lunch on hot soup, purchasing Dutch auction tickets and shopping at EarthDance during the festivities from November 11-13.