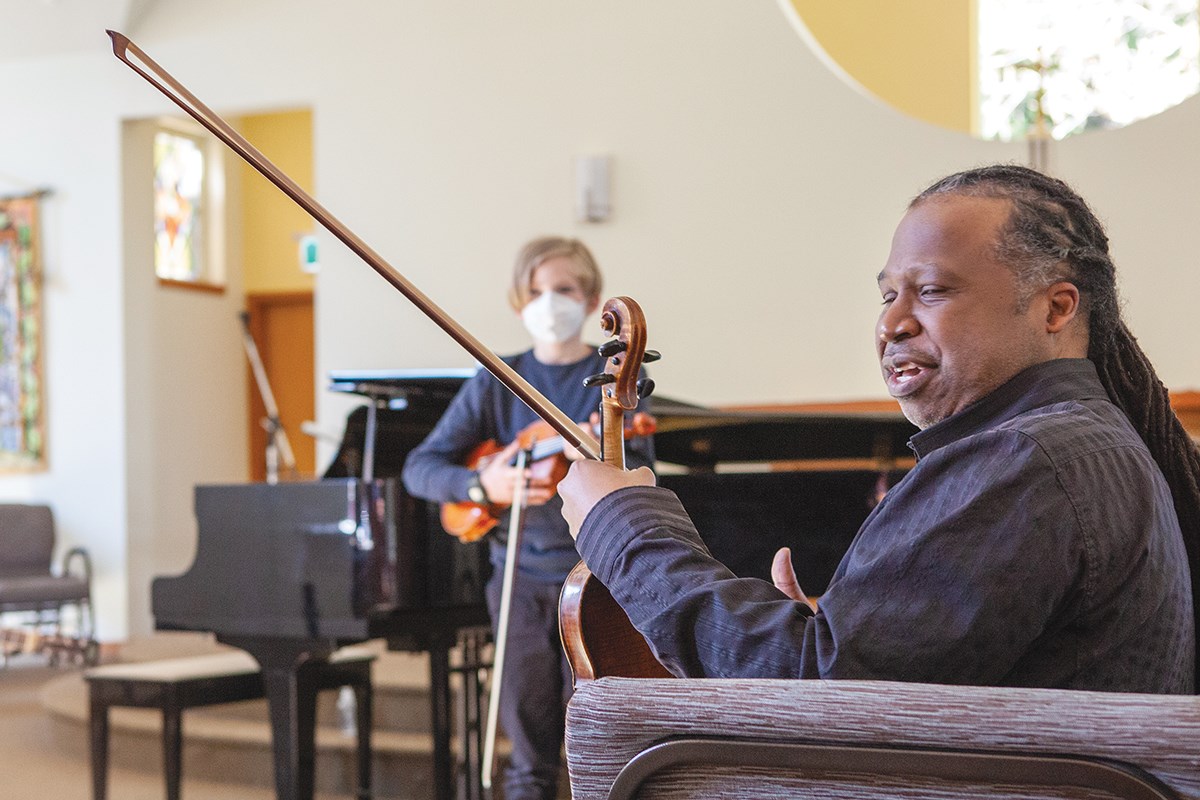 String musicians bow at the Sunshine Coast Festival of the Performing Arts
The 2022 Sunshine Coast Festival of the Performing Arts kicked off its second week of judged performances on April 19 with 60 amateur instrumentalists playing at St. Hilda's Anglican Church for three days.
Two days were devoted to bowed strings – violins, cellos and a solitary viola da gamba played by Duncan Poon for selections in the baroque and classical genres. The solo pieces were accompanied by piano, with the exception of Sebastian Young-Laidlaw's violin arrangement of Eleanor Rigby of The Beatles, which was backed by guitar.
Seven sessions of folk instrumental performance followed on Thursday, highlighting Celtic, bluegrass, Indigenous and ensemble works. Adult artist Gord Beynon performed the swing waltz Indifference on his mandolin. Duo Daniel & Cassidy have blended clarinet and fiddle in Piperkovo Kolo, a crowd-pleasing traditional klezmer.
Two of the selections were composed by Wesley Hardisty, who also served as a judge for the Folk Instrumental segment of the festival. Jinny Marshall performed Hardisty's Soul Reel/Roots to Wings on violin, and The Incredibows covered the same work in an arrangement by Andy Reiner for string ensemble.
Hardisty is a member of the Fort Simpson Dene First Nation in the Northwest Territories who has performed internationally from Seattle to Iqaluit. He studied at the Gulf Island School of Performing Arts and released two albums. In 2012 his debut CD 12:12 won the Aboriginal Peoples Choice Music Award for Best Violin CD.
"It was quite an adventure to fly him down [from the Northwest Territories]said festival president Sarah Lowis. "So we thought, well, we're taking it this far, let's make the most of it. Let's do a house concert and organize a workshop.
Hardisty will lead a violin workshop at the Highland Center in Roberts Creek on Thursday evening, followed by a house concert on Friday, April 22. During the concert, Hardisty's folk fiddle virtuosity will be complemented by Andy Hillhouse, one of Canada's finest Celtic guitarists.
The judge for the Bowed Strings category was John "Adidam" Littlejohn, violist and hip-hop artist. Littlejohn is a graduate of the Peabody Institute at Johns Hopkins University in Baltimore. He is currently on the faculty of the Vancouver Academy of Music and is also an associate pastor at Kingdom Life Community Church in Langley.
The festival dance competition will take place on Saturday, April 23 at the Gibsons Heritage Playhouse.
The festival resumes on April 26 for a week dedicated to vocal and choral singing, harmonies, woodwinds and brass, harp and spoken word arts. The public is invited to attend all performances free of charge.
Live streaming of performances and judging is also available on the festival website: www.coastfestival.com.
A highlights concert is scheduled for the Gibsons Heritage Playhouse on Saturday, April 7, which will feature a cross-section of artists vying to compete at the BC Provincial Festival in early June.